From a timing perspective, the setup for selling overvalued US equities and buying undervalued precious metals today looks exceptional. The gold to S&P 500 ratio just posted its worst monthly decline in 37 years. In our analysis, this relative performance was an end of cycle move for the S&P 500 but only an early inning correction for precious metals. We think the pullback in Crescat's strategies in November as a result provides an excellent entry point for existing and prospective investors. We remain positioned long precious metals in all strategies across the firm today and short overvalued equities in two of our hedge funds.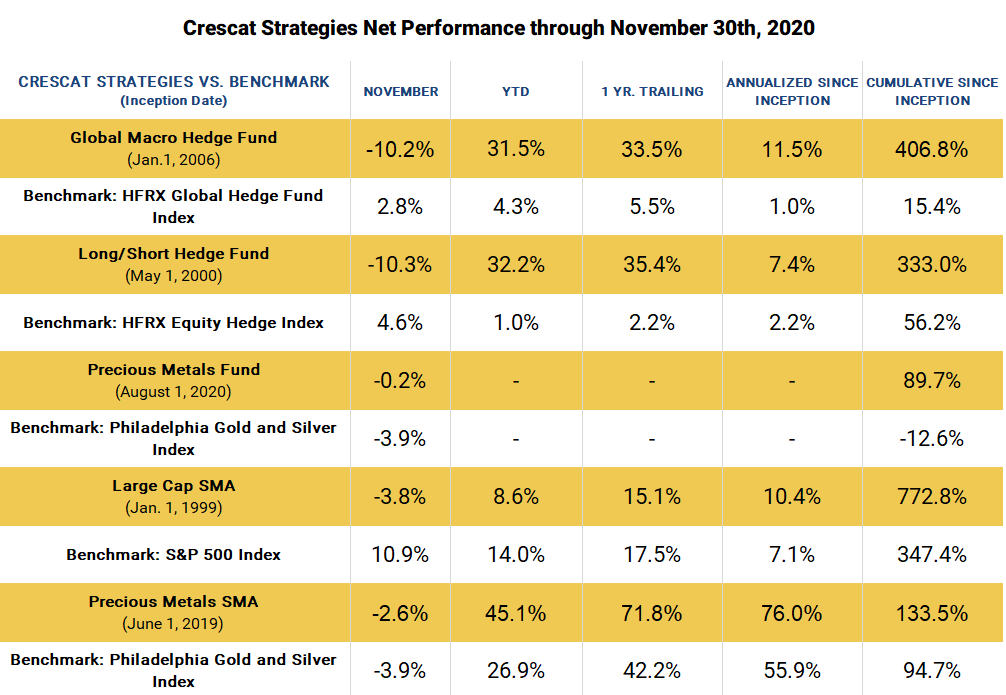 Surrounded by speculative excess everywhere, our short positions in select hyper-overvalued US equities remain key tactical holdings in Crescat's Global Macro and Long/Short funds. November's market move appears to be a last gasp for stocks, which are suspiciously out of sync, with the downturn in the business cycle already in progress. In our view, investor positioning is historically imbalanced based on a composite of indicators:
The put to call ratio for US stocks just hit its lowest level since 2000

Options volume has surged to its highest on record

21.6% of all call options were bought by small traders, the largest level since the tech bubble

Median short interest for the S&P 500 has plunged to 17-year lows

We now have the largest percent of S&P 500 members above their 200-day moving average in 7 years

Market sentiment, measured by the Investor's Intelligence, is at its highest level since just prior to the Volmageddon shock in 2018.

According to SentimenTrader, for the 1st time in 15 years, 60% of their indicators are showing an excessive amount of optimism, the highest reading yet.
The bullish frenzy has been driven by all-time low interest rates and narrow credit spreads. These two factors coincidentally get the highest weight in the Goldman Sachs Financial Conditions Index which recently made a new low-water mark signifying the extreme in the enabling mechanism for today's speculative imbalances. The four prior cyclical lows in this index precipitated the tech bust in the early 2000s, the global financial crisis in 2008, the emerging market meltdown of 2015, and Volmageddon in 2018.
Small caps, measured by the Russell 2000 index, also look stretched. The index recently had its best monthly performance ever. The index price relative to its 200-day moving average just reached its largest divergence since 1983. While this condition can happen in early bull markets, as well as at peaks, the setup is most comparable to the tech bubble given today's excessive valuations.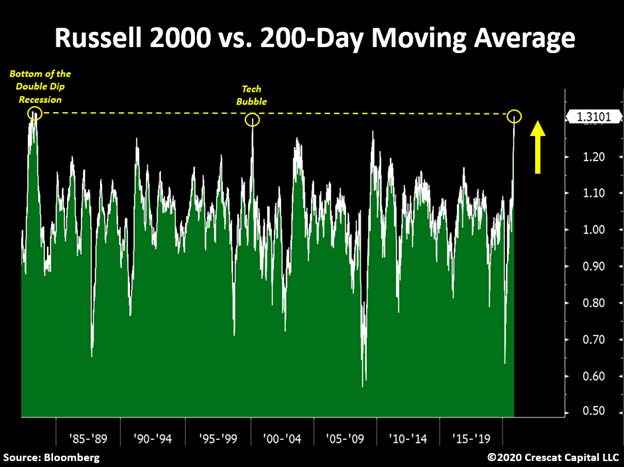 In our view, the downside risk for stocks today is unprecedented. According to our 15-factor model, US stocks have their most extreme valuations in 120 years. Different than prior peaks, the plethora of fundamental imbalances across the broad US equity market is unparalleled to any other time in history.  Stocks appear ripe for a spectacular failure.
In November, gold had its steepest monthly pullback in four years, but we believe that we are still early in a new secular bull market for gold. From August 6 to November 30, gold declined close to 14%. This correction was even worse than the abrupt fall of March during the pandemic crash when gold sold off 12% over the course of 10 days. At that time, the bearish narrative for precious metals became prevalent, but those who were able to discern the value in the new early cycle macro trend, and stepped up to buy the dip, were incredibly well rewarded. Gold and silver mining stocks ended up being the best performing industry group in the market over the next four months.
Within the precious metals industry, we are most excited about the opportunity for Crescat's hand-picked portfolio of premier small cap gold and silver mining companies focused on large, high-grade exploration projects. Crescat's hedge funds are heavily tilted toward activist positions in this segment where we see the best growth opportunity and value today. As a result of our focus, Crescat's two precious metals strategies have been substantially outperforming their benchmark, the Philadelphia Gold and Silver Index, since their respective inceptions, especially during the recent industrywide pullback.
Real yields, perhaps one of the most reliable macro drivers for gold, are now suggesting a key turn back up in the metal. Even though US 10-year interest rates have been rising since August, inflation expectations have begun to outpace nominal yields once again. Consequently, real yields are turning even more negative. As shown inverted in the chart below, declining real yields tend to drive gold prices upward. These two lines are now diverging significantly and, in our opinion, strongly suggest that the bull market for gold is poised to resume.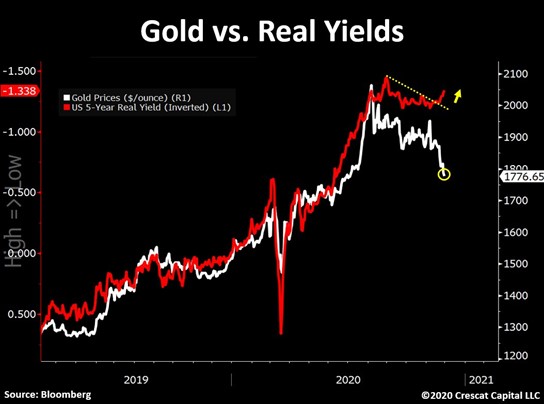 We encourage you to see our last two letters, A Vicious Debt Spiral and As Good As It Gets, and our Macro Deck for further research and analysis supporting our positioning across all Crescat strategies. If you have any questions on investing or Crescat in general, please do not hesitate to contact a Client Service Specialist. 
This article was written by Crescat Capital.