Fancy an extended beach break in tropical paradise? In today's episode, we unpack four island-based Digital Nomad Visa Programs that can help make your bucket list dreams a reality in 2022…
This article was written by Andre Bothma and originally published by The Sovereign Man.
Four Island-Based Digital Nomad Visa Programs For 2022
Since the beginning of the pandemic, the world has been opening up to digital nomads in a big way. So if you feel like an extended change of scenery, you're in luck.
Below, we present four of the top island-based Digital Nomad Visa Programs.
Let's get into the details…
Nomad Visa # 1: The Bermuda One-Year Residential Certificate Program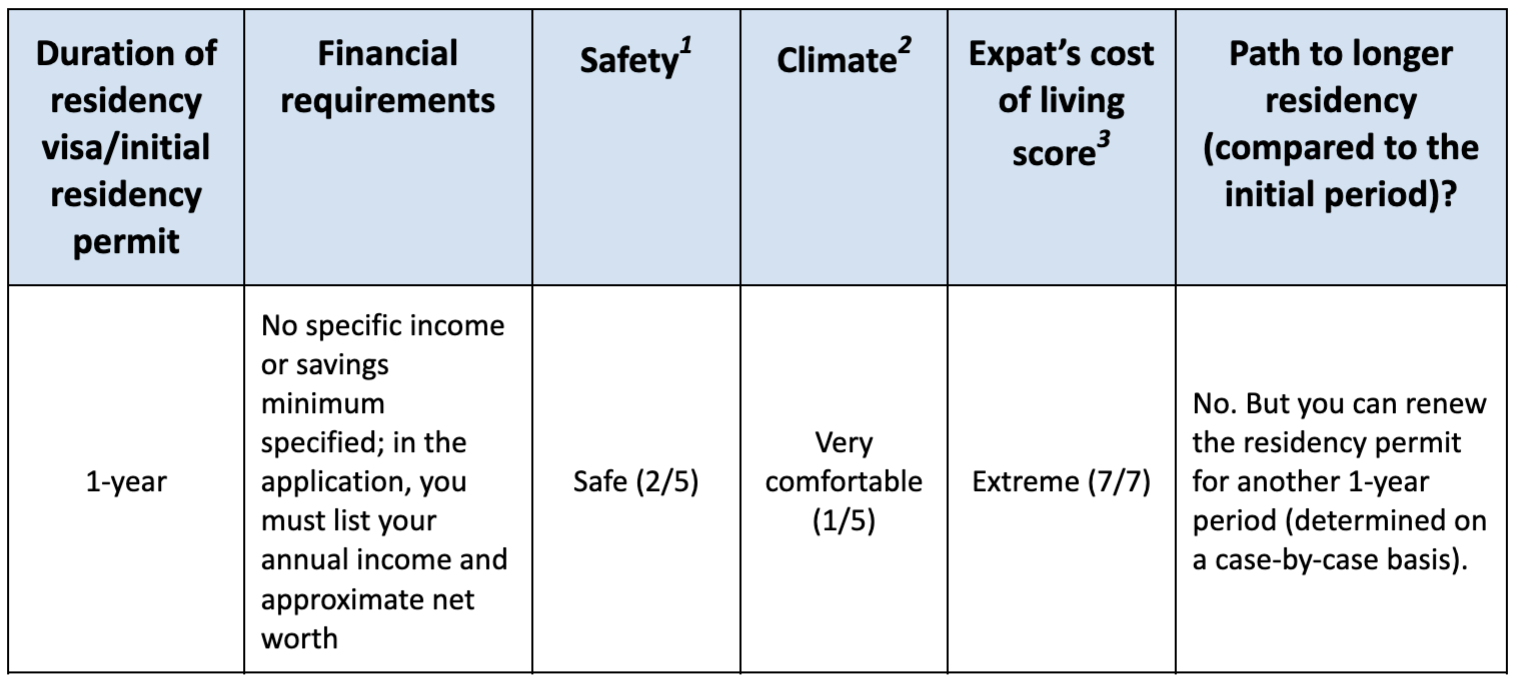 1 The Safety score ranges from 1 (Very safe) to 5 (Very dangerous)
2 The Climate score ranges from 1 (Very comfortable) to 5 (Uncomfortable)
3 The Cost of Living score ranges from 1 (Dirt cheap) to 7 (Extreme)
In August 2020, Bermuda started welcoming digital workers with its 1-year Residency Permit Program. Being close to the US east coast, Bermuda is host to scores of highly educated and financially sophisticated residents — the type of people you'll enjoy being around for a year.
And once there, you won't face any local income tax obligations (because there aren't any). Plus, if you're a US citizen, you can claim the Foreign Earned Income Exclusion (FEIE).
You'll want to note two negatives…
First is the island's high cost of living — it's even higher than NYC. And second is the prevalence of hurricanes. Hurricane season runs from May through October, so November to April is the best time to go.
A plus – Bermuda's Internet speeds. Average downloads speeds are about 75 Mbps, and with recent infrastructure upgrades, it's possible to achieve up to 500 Mbps connectivity across the island.
We also researched some rentals, for your convenience…
For $3,700 per month, you can rent a furnished two-bedroom townhouse in the Warwick area (southwest of Hamilton) with an ocean view and a top-floor balcony. Or, if you'd prefer something larger, we found a three-bedroom furnished apartment for $3,850 per month, which includes use of a communal pool, near Cavello Bay.
Bermuda is not your typical, ultra-cheap nomad destination. But if you'd like a convenient island location just a few hours from the US, and one that's full of like-minded professionals, Bermuda could definitely be an option.
Here's the link to the application form.
Nomad Visa # 2: The Cayman Islands Global Citizen Concierge Program

Cayman is the most developed place in the Caribbean, and its lack of taxes attracts both wealthy individuals and corporations. Tourism is a key economic mainstay, accounting for about 70% of the country's GDP, and 75% of its foreign currency earnings.
So to encourage longer stays, Cayman introduced the Global Citizen Concierge Program in late 2020.
The program offers a generous 2-year residency. But featuring high income requirements, it is not accessible to all digital nomads and remote employees. (Plus, you'll pay annual fees of $1,469 for two people, and $500 for each dependent.)
And it's not a cheap destination.
We found a 166 square meter (1,790 square foot), furnished three-bedroom townhouse on Grand Cayman Islands' South Sound for $2,800 Cayman Islands (CI) Dollars (~$3,363, per month).
Rentals on Grand Cayman's Seven Mile Beach will generally be more expensive. There, a 1,600 square foot, furnished two-bedroom apartment with canal views that's close to shopping malls and Seven Mile Beach will cost around CI$3,200 (~$3,844) per month.
In terms of internet connectivity, if you're on Grand Cayman, you'll probably enjoy decent internet download speeds (around 50 Mbps).
For more information, browse the Global Citizen Concierge's About and FAQ pages, and apply here.
Nomad Visa # 3: The Mauritius Premium Visa

Mauritius is situated east of Madagascar, approximately 2,000 kilometers from Africa's southeast coast. Starting in late 2020, the island launched its 1-year Premium Visa Program for remote workers.
This residency visa is very easy to obtain. Its income requirements are really reasonable, and visa processing is free — a rarity among Digital Nomad Visa Programs.
But in Mauritius, you need to be mindful of the tax implications…  
Once you spend 183 days in Mauritius, you'll become a tax resident and be liable for taxes on income that you bring to the island, AND income derived there.
The top income tax bracket is 15% for earnings above 650,000 Mauritian rupees (MUR) (~$15,000).
Mauritius is the only country featured in this list to tax its digital nomads. If you want to legally avoid local taxes, you'll need to leave again within six months. Or, if you prefer to stay for longer, we suggest that you consult with a local tax advisor regarding your tax situation.
Internet speeds in Mauritius range from 20-39 Mbps, which is not great, but not a deal-breaker either.
As for where to base yourself…
In the Trou-aux-Biches area, in the north of the island, we found a furnished, two-bedroom apartment with communal pool access near Mont Choisy Beach for just MUR 20,000 (~$462) per month.
If you prefer a higher-end apartment, you could also opt for a 110 square meter (1,184 square foot) two-bedroom furnished apartment in the upscale Grand-Baie neighborhood for only MUR 30,000 (~$693) per month.
You can apply for the Mauritius Premium Visa here.
Nomad Visa # 4: The Seychelles Workcation Program

Situated approximately 1,100 miles (1,750 km) north of Mauritius is The Seychelles, one of the latest countries in the world to launch a Nomad Visa.
If you're more of an ecotourist than a resort dweller, Seychelles might be just the destination for you. And thanks to their new Seychelles Workcation Programme, you can now obtain a 1-year residency there with ease.
As a Workcation Programme resident, Seychelles will not tax your income.
And while Seychelles' Internet is not fast by world standards (average 27 Mbps), it ranks among the fastest in Africa.
You'll also enjoy the price of apartment rentals.
A 100 square meter (1,076 square foot), furnished two-bedroom, sea-view apartment on the east side of Mahé Island will only cost around $1,125 per month.
Or, if you prefer something closer to the capital of Victoria, a furnished 80 square meter (861 square foot) two-bedroom apartment on the north side of Mahé Island, also with sea views, costs only around $1,600 per month, and includes twice-a-week cleaning services.
If Seychelles sounds like a good option, you can apply here. (Note that you'll need to submit your application at least 60 days before your arrival.)
The bottomline
If you're looking for short-term residency options, the above programs could be just the thing for you. A relocation abroad could cut your living expenses in half, or even more.
If you're a US citizen, worldwide taxation will always follow you (unless you renounce your citizenship). But a move outside the States will also give you the opportunity to lower US taxes on your earned income through the Foreign Earned Income Exclusion (FEIE), making a stint abroad a no-brainer – at least in our opinion…