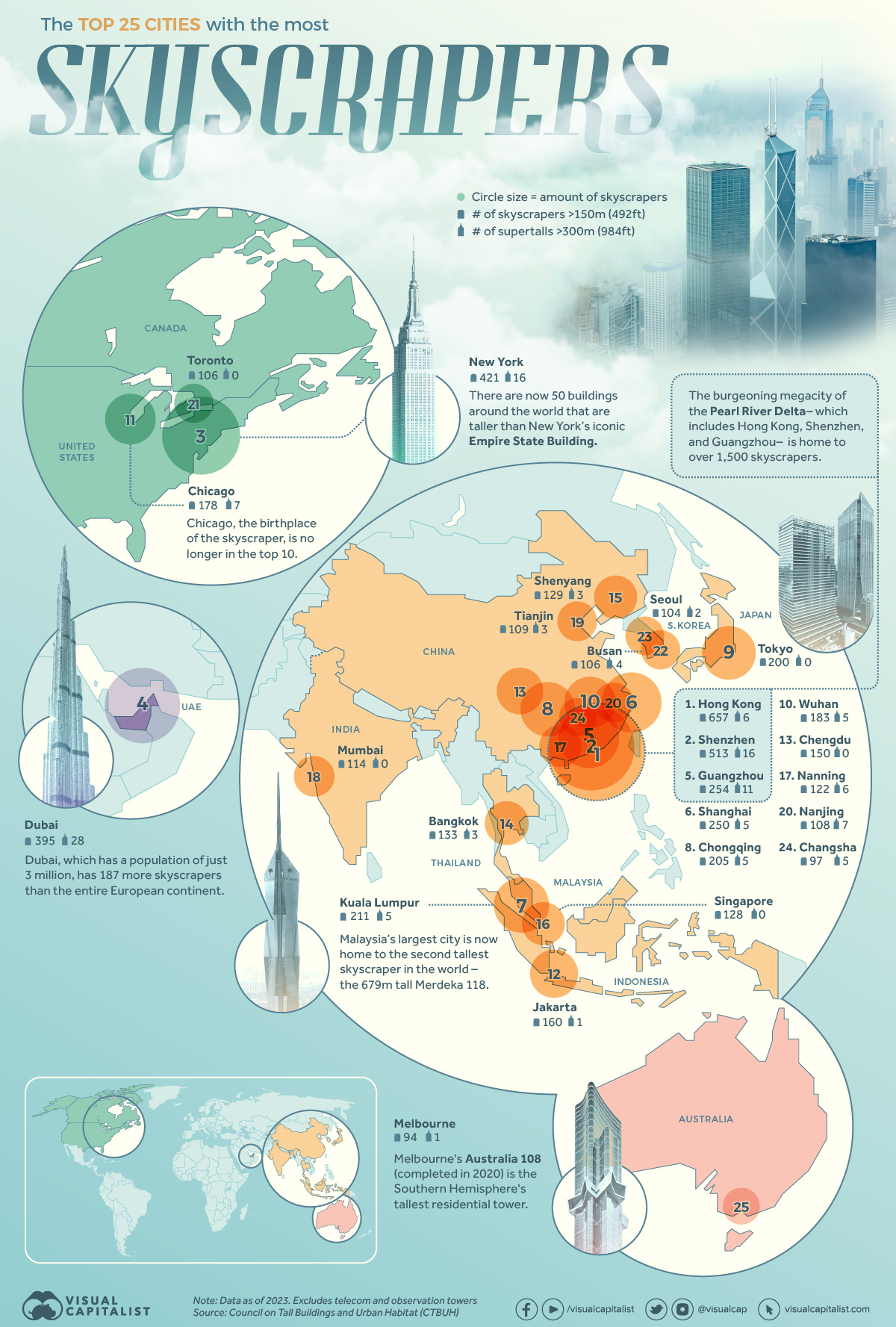 When it comes to soaring skylines and architectural marvels, no country has embraced the vertical revolution quite like China.
This article was written by Nick Routley and originally published by Visual Capitalist.
In this graphic, which uses data from the Council on Tall Buildings and Urban Habitat (CTBUH), we reveal the 25 cities with the most skyscrapers and supertall buildings globally.
Unsurprisingly, China's cities dominate the list, solidifying the country's reputation as a global powerhouse of tall buildings.
The 10 Top Cities by Skyscraper Count
Topping the charts is Hong Kong, with an impressive 657 skyscrapers, including six supertalls (buildings over 300 meters tall).
Hong Kong, along with Shenzhen (#2), and Guangzhou (#5) are part of the burgeoning megacity known as the Pearl River Delta, which is home to over 1,500 skyscrapers. This is even more impressive when considering that Shenzhen was a small fishing village until the 1970s.
New York City secures the third position on the list, boasting an impressive tally of 421 skyscrapers. Although it may have relinquished its title to Chinese cities, the city's skyline endures as a globally renowned symbol, prominently featuring the iconic Empire State Building. Notably, while the Empire State Building enjoys widespread familiarity, it no longer ranks among the world's 50 tallest structures.
Rounding out the top five is Dubai in the United Arab Emirates, which grabs the fourth position with 395 skyscrapers, a staggering 28 of which are supertalls. This desert oasis has become synonymous with grandiose architecture and record-breaking structures, exemplified by the Burj Khalifa, which is the world's current tallest building at 828 meters (2,715 ft).
China's Numbers in Context
Looking at this data from another perspective, China actually has more skyscrapers on this list than the rest of the world combined.
| Country | Cities in Top 25 | Skyscrapers | Supertalls |
| --- | --- | --- | --- |
|  China | 12 | 2777 | 72 |
|  Rest of World | 13 | 2350 | 67 |
China's rapid urbanization, economic growth, and ambitious construction projects have fueled this impressive feat. There's no doubt that the country's relentless pursuit of vertical development, coupled with its booming population and thriving cities, has positioned China as the unrivaled leader in the global skyscraper race.
The Future of the Global Skyline
As the world continues to reach new heights in architectural marvels, there are even more supertall skyscrapers in the pipeline that will reshape skylines across the globe.
From the soaring Jeddah Tower in Saudi Arabia, poised to surpass the Burj Khalifa as the world's tallest building, to the remarkable Merdeka 118 in Kuala Lumpur, which is set to claim the title of the world's second-tallest structure when it opens in June 2023, these projects will captivate city dwellers for years to come.
Even as these new monumental buildings rise, China's prominence in the world of skyscrapers—with three cities in the top five globally—is likely to remain unchallenged.