What started as a season with championship or bust expectations for the Lakers quickly devolved into an injury-plagued nightmare that ended with the team not even qualifying for the play-in tournament for a chance into the playoffs. Instead, for the second time in the four seasons LeBron James has been with the team, they'll be sitting at home all postseason wondering where it all went wrong. But it's important that before the book is closed on this season, we take a look back on all the year that was and hand out some end-of-the-season awards to the Lake Show.
This Tweet That Aged Like Milk Award – LeBron James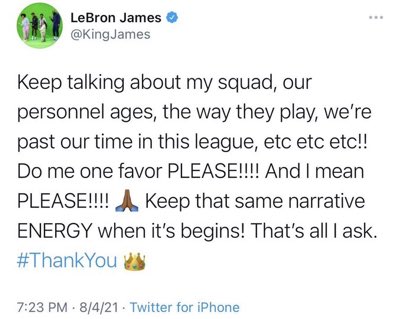 Deleted almost as quickly as it was posted, LeBron's tweet could really only go one of two ways: either the team would win the title and he'd prove all the haters wrong or it would age worse every single day. Unfortunately for fans, it was the latter as the team faced injuries and just quite frankly, ran out of gas when it mattered most.
The Golden Fleece Award –  Kendrick Nunn
In Greek mythology, the Golden Fleece is the fleece of the golden-woolled, winged ram Chrysomallos. For the Lakers this season, the Golden Fleece has to be Kendrick Nunn's contract. At first, signing the young guard to a 2-year/$10 million contract seemed like a steal. A 26-year-old guard wanting to join the team on a bargain deal was just another example of how stacked the team would be. Then, right before the start of the season, Nunn was declared out for a few weeks with a bone bruise in his right knee. No word on what caused what is arguably the most severe bone bruise in history, but Nunn ended up missing the entire season. He has since opted into his $5.25 million player option for next season, but time will tell if it just ends up being part two of Nunn's heist.
The Armchair Hero Award – D.J. Augustin
Released by the Rockets on February 10th to make room for a trade, D.J. Augustin didn't find another team until the Lakers signed him on March 1st. Immediately, he gave the team something they'd lacked: competent guard play with Russell Westbrook on the bench and LeBron out with injuries. Playing hard alongside young players like Stanley Johnson and Malik Monk, Augustin injected life and fluidity into the rotation, even if it didn't translate to long-term success.
The Sitting Duck Award – Frank Vogel
Has there been an NBA coach more aware of his impending dismissal than Frank Vogel this season? A defensive-minded coach given a roster of players that simply didn't want to play defense. Vogel is an easy scapegoat that will certainly be fired almost the second the season finally comes to an end.
The Life Comes at You Fast Award – Talen Horton-Tucker
Remember the '20-'21 season when Horton-Tucker looked like the perfect rising young star to pair along with LeBron and AD? Remember when Lakers fans declared him untouchable? Life comes at you fast, and this season after signing a 3-year/$32 million extension in the off-season, Tucker struggled to find any sort of rhythm. Poor shooting, poor decision making, regression in his playmaking, all of it and more frustrated fans all year as the flashes that had made him look so promising seemed like a distant memory.
The Victim of Indecision Award – Austin Reaves
Essentially slotted in to fill the departing Alex Caruso's role, Reaves was a rookie in over his head and working to stay afloat and fit in. Never taking a play off, Reaves endeared himself to fans but never saw consistency in his role. Averaging only 23 minutes a game across the year, Reaves started 18 games but as the season wound down and the injuries piled up, Frank Vogel opted to sit him for a few games, before playing him once again in the do-or-die games with the Lakers on the brink of elimination. Who knows who the team's head coach will be next season, but hopefully it will be one that attempts to harness Reaves' skills and youthful energy more.
The We Knew What We Had and You Got Rid of Him Anyways Award – Alex Caruso
The decision to not even offer Alex Caruso a contract extension is one that looked worse after every game. Caruso's impact on the defensive end and his ability to fit in as a shooter and energy player were missed almost immediately. Especially as he continued to shine and blossom in Chicago with even more playing time. A true homegrown fan favorite, Lakers fans were disappointed that Caruso left the team, not mad at him leaving, but mad at the team for letting him. In hindsight, it should've been a signal that this season could only end in heartbreak.
With LeBron James under contract through the '22-'23 season, the Lakers will surely look to retool and reload the team to try to make another deep postseason run. Time will tell what the roster will look like or who the coach will even be, but one thing is clear, coasting on reputation alone simply won't cut it anymore in a league that is more competitive than ever.