First things first: just what is aftershave?
What is aftershave for? Aftershaves are the products that are applied immediately after shaving to provide some combination of irritation relief, skin moisturizing, and protection from the elements.
This article was written by Mantic59 of Sharpologist.com.
Although references to after shave preparations (for hygienic rather than cosmetic purposes) go back to the ancient Roman Empire (some say even earlier), the modern "aftershave" can probably be traced back to about 1830. The Hungarian Cavalry was busy spending months in the field far from the attention of barbers, yet regulations required them to have a clean shave. Skin infections were a very real problem for them.
A well-known perfume and cologne maker from Paris, Edouard Pinaud, was contacted to see if he could come up with something to make life a little more pleasant for the troops. This resulted in the creation of one of the first, longest-lived, and best loved men's fragrances commercially available–Lilac Vegetal. [Note: Amazon links are affiliate.] It could be used both as an aftershave and a body splash between baths, and was wildly successful, so much that it is still in production today, almost 200 years later.

There are some that dispute the story but Napoleon III granted the title of "Royale Parfumer" to Pinuad soon after, so he must have done something right.
Balm Vs. Splash Vs. ?
Aftershaves can be divided into two broad categories: balms and splashes.
Balms have a thicker consistency and the best aftershave balm typically provides more irritation and razor burn relief, and act as a moisturizer to the skin (particularly in cold or dry climates). Generally, a little goes a long way on the skin.
Splashes are more watery and generally contain a combination of toners, astringents, and hydrosols to cleanse and provide some degree of antiseptic or antibacterial protection to the skin. They're more popular with those with oily skin or in hot, humid climates and in some cases can be effective at combating razor bumps or ingrown hairs.
Both balms and splashes often use some kind of humectant to increase the effectiveness of other ingredients. A humectant is an ingredient used to increase the skin penetration and activity time of another ingredient. They're also used to minimize the dehydrating effect of some other active ingredient. Examples of humectants include glycerol, propylene glycol, sorbitol, lactic acid and urea.
There are also "cross-over" ingredients that might be used in a balm or a splash. A moisturizer is not the same as an aftershave balm: an aftershave balm contains additional ingredients.
"Can I use an after shave balm as a moisturizer?"  Yes, absolutely.  "Can I use a moisturizer as an after shave balm?" Maybe.
By the way, a moisturizer is not a single ingredient but a combination of ingredients–like oils and humectants–working together. Moisturizers are specially designed to make the external layers of the skin softer and more pliable by increasing the skin's water content. It does that not by putting water into the skin, but by reducing evaporation.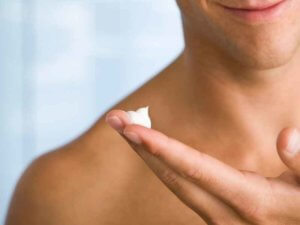 There are also a some sub-categories, like milks and gels. An aftershave milk generally has a consistency between that of a balm and a splash, and usually has some specialized ingredients. An aftershave gel is (perhaps counter-intuitively) lighter-feeling than a balm as well and generally has a "weaker" ingredient strength (though this may be by no means a "bad" thing).
Toners and astringents are designed to cleanse the skin and shrink the appearance of pores. Astringents are the strongest form of toner, often containing a high proportion of alcohol (up to 60%). Mild astringent solutions are used in the relief of minor skin irritations like superficial cuts, rash from allergies, insect bites, or fungal infections like athlete's foot. They can also help heal scars.
They are commonly recommended for oily skin as they are drying, but keep in mind that the removal of oil from the skin can lead to excess oil production as the skin tries to compensate and prevent moisture loss. Topically applied astringents cause a mild coagulation of skin proteins and will dry, harden, and protect the skin.
Astringents are best applied only to problem areas of skin to prevent excessive drying.
Some common toners include alum, oatmeal, acacia, yarrow, witch hazel, distilled vinegar. Astringent preparations include silver nitrate, potassium permanganate, zinc oxide, zinc sulfate, and–especially–alcohol.
Hydrosols are the product of essential oils (Wikipedia. Here is another great article about essential oils from Better Mind Body Soul) usually obtained by steam distillation from aromatic plants. Hydrosols go by other names including floral water, herbal distillates, hydrolate, herbal water and essential water. Because hydrosols are produced at high temperatures and are somewhat acidic, they tend to inhibit bacterial growth–but they're not sterile.
Hydrosols can also help the skin get back a normal pH by being more acidic, where shaving soaps and creams may be more alkaline. The traditional hydrosols most associated with shaving are rose and lavender. Rose distillates are known to be mildly antibacterial, while lavender distillates are mildly antiseptic.
By the way, its a good idea to keep hydrosols refrigerated, like milk. They'll last longer, and they can feel nice in the heat of the summer.
"Good" Vs. "Bad" Ingredients
Over the past few years there have been many additions to the list of ingredients that may be found in the best aftershave for men (particularly balms). Ingredients to look for: aloe vera, chamomile, tea tree oil, calendula, witch hazel, lavender, jojoba oil, rose oil distillate, and various vitamins, Shea butter, fractionated coconut oil, glycerin, squaline, allatoin, panthenol, pea extract, green tea, sodium lactate, panthenol, hyaluronic acid, oat protein.
Ingredients to avoid: high concentrations of alcohol and/or lemon oil (especially if you're looking for the best aftershave for sensitive skin), camphor, or eucalyptus; grapefruit (if you're going to be outdoors a lot) and grapefruit seed extract, and lanolin.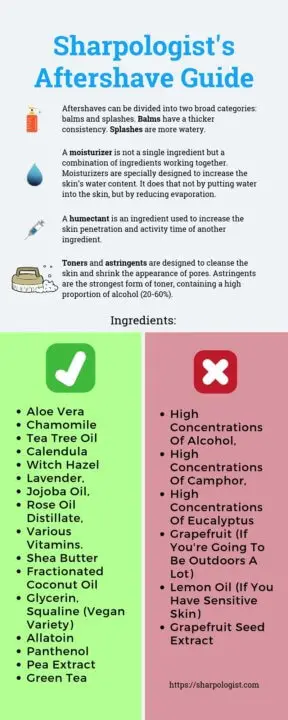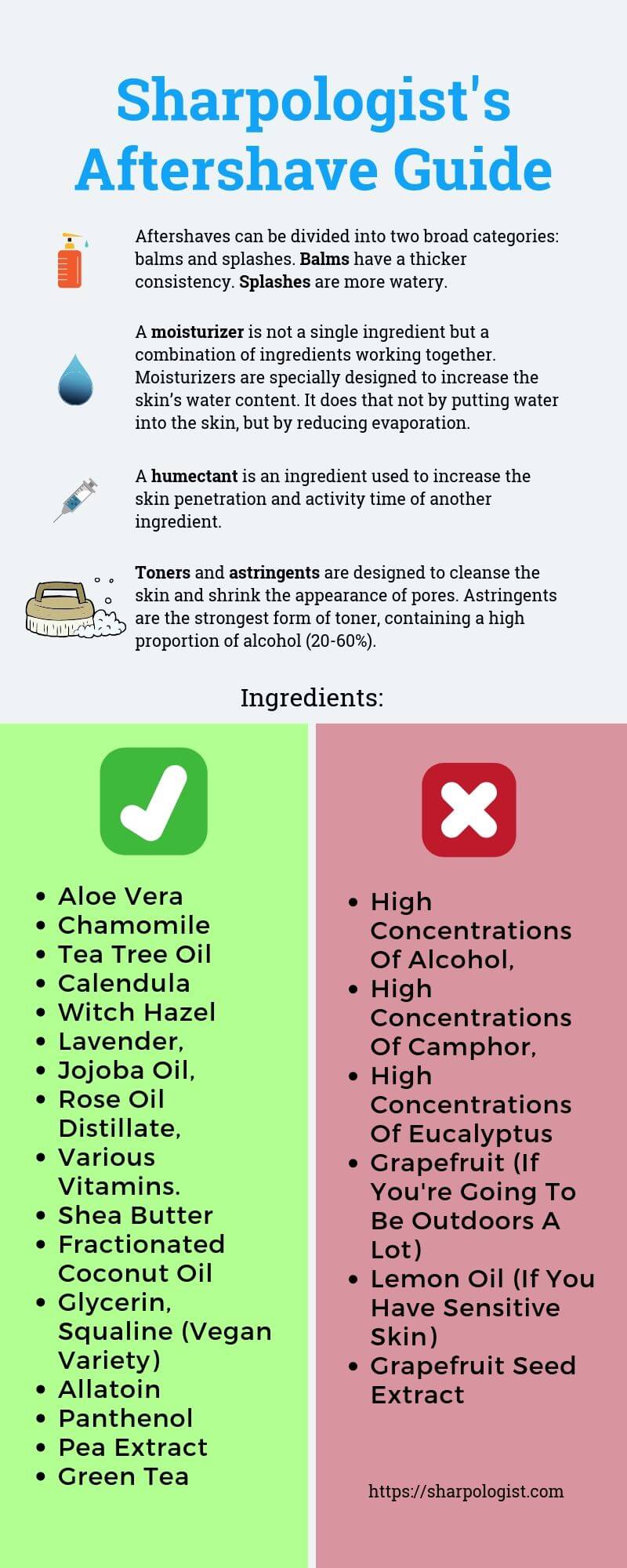 (Click For Full Size Image)
Some readers may disagree with grapefruit seed extract being on the "avoid" list, but hear me out. While grapefruit seed extract does have some general health benefit, they are minimal in an aftershave's topical skin application. Grapefruit seed extract is also often produced using chemical preservatives like Methylparaben and Triclosan.
Alcohol in particular should be treated with caution. There are a lot of aftershave preparations out there–particularly in the "splash" category–that contain way too much alcohol. Yes, some men have been taught to "love the burn" and yes, alcohol can help clean and kill surface bacteria from a shaving cut. But far too many alcohol-based aftershave products do little or nothing to nourish the skin. Go alcohol free. Don't agree? Change my mind in the comments section.
What Are The Best Aftershaves? The Criteria:

What is the best aftershave for men? As I mentioned at the beginning of this article, there are actually a lot of good aftershaves out there. I will no doubt neglect some from this list (feel free to suggest alternatives in the comments section!). There are also some suggestions for specific circumstances, like the best aftershave for sensitive skin (but do you really have sensitive skin? Check out Shaving 101 – The Thick Beard And Sensitive Skin Myth). The criteria for selecting these products include:
Superior performance (based on research of review sites and specialty forums, the input from Sharpologist readers, and my own experience).
Available in a variety of scents (does aftershave smell good?  You won't use even the best product if you don't care for the smell) or no scent at all.
Time on the market.
Availability.
Price.
Products are listed in alphabetical order. I've listed the product ingredients when found on the brand's website.
[Note: Amazon. Oneblade, and PAA links are affiliate.]
Best Balms
Let's first list the best aftershave balm. As mentioned earlier a balm has a thicker consistency and is often white in color. There is typically little or no alcohol, though other ingredients with antiseptic properties might be included. Balms are pretty common so this part of the list is divided into products that more widely available ("megamarts," drugstores/chemists, and some mid-tier retailers) and generally relatively inexpensive, and products that are more likely in the "specialty" niche' and more commonly available from online sources vs. "brick and mortar" stores. Here are some of the best you can buy.
Mass-Market
Baxter of California After Shave Balm. Mildly cooling with Menthol, it also features tea tree oil, aloe vera and allantoin. Consistently highly-rated, affordable, and respected.
Ingredients: Water, Cyclopentasiloxane, Glycerin, Butylene Glycol, Phenoxyethanol, Polysorbate 80, Acrylates/C10-30 Alkyl Acrylate Crosspolymer, Triethanolamine, Methyl Gluceth-20, Parfum / Fragrance, Menthol, Allantoin, Ethylhexylglycerin, Linalool, Tetrasodium Edta, Citral, Benzophenone-4, Aloe Barbadensis Leaf Juice, Limonene, Peg-30 Dipolyhydroxystearate, Trideceth-6, Geraniol, Citronellol, Coumarin, Ci 42053 / Green 3, Potassium Sorbate, Sodium Benzoate, Citric Acid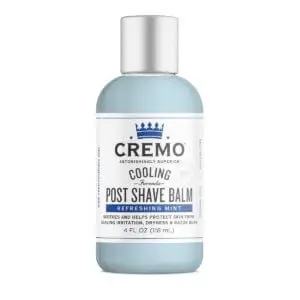 Cremo Cooling Post Shave Balm is a personal favorite of mine in the hot/humid Summer months where I live. Just enough Menthol to provide a mild cooling effect without over-doing it, plus Tea Tree and Shea butter for moisturization.
Ingredients: Water (Aqua), Glycerin, Glyceryl Dilaurate, Butyrospermum Parkii (Shea) Butter, Dimethicone, Methyl Gluceth-20, Adansonia Digitata Seed Oil, Calophyllum Inophylum (Tahitian Tamanu) Seed Oil, Melaleuca Alternifolia (Tea Tree) Oil, Menthol, Acrylates/C10-30 Alkyl Acrylate Crosspolymer, Sodium Hydroxide, Caprylyl Glycol, Phenoxyethanol, Isopentyldiol, Disodium EDTA-Copper, Fragrance (Parfum).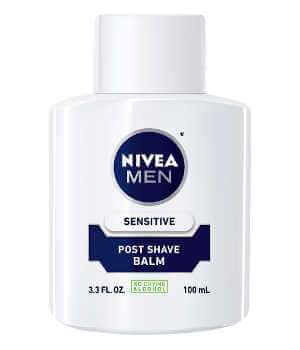 Nivea For Men Post Shave Balm – Sensitive. This unscented balm is widely available and also regarded as an excellent value ("best bang for the buck") for its performance.
Ingredients: Water, Glycerin, Isopropyl Palmitate, Chamomilla Recutita (Matricaria) Flower Extract , Hamamelis Virginiana (Witch Hazel) Bark/Leaf Extract , Tocopheryl Acetate, Tapioca Starch, Triceteareth-4 Phosphate, Maltodextrin, Caprylic/Capric Triglyceride, Carbomer, Sodium Hydroxide, Phenoxyethanol, Piroctone Olamine, Fragrance.  Additional Information.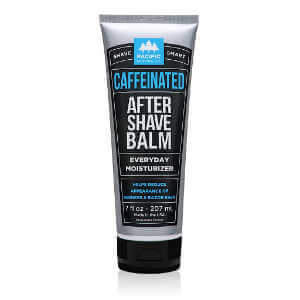 Pacific Shaving Company Caffeinated Aftershave Balm. Another more widely available product that conditions the skin very well.  I reviewed this product a while back.
Ingredients: Water (Aqua), Caprylic/Capric Triglyceride (Plant derived), Glyceryl Stearate (Plant derived), Cetearyl Alcohol (Plant derived), Glycerin (Plant derived), Cetearyl Glucoside (Sugar/Corn derived), Caffeine, Argania Spinosa Kernal (Organic Argan) Oil, Simmondsia Chinensis (Organic Jojoba) Seed Oil, Mentha Viridis (Spearmint) Leaf Oil, Olea Europaea (Olive) Fruit Oil, Crambe Abyssinica (Abyssinian) Seed Oil, Butyrospermum Parkii (Shea Butter), Persea Gratissima (Avocado) Oil, Camellia Oleifera Leaf (Green Tea) Extract, Coco-Caprylate/Caprate (Coconut derived), Xanthan Gum (Natural thickener), Menthol, Phenoxyethanol, Ethylhexylglycerin
The Art of Shaving After-Shave Balm. Available in their recently expanded line of scents, plus Unscented. The Art of Shaving sometimes takes some heat from the shave nerd community but their aftershave balms are actually pretty well thought-of. They have a lot of "good" ingredients and not too many "bad" ingredients, and work well for calming irritated skin.
Ingredients (Unscented): Aqua/Water/Eau, Glycerin, Butyrospermum Parkii (Shea) Butter, Isohexadecane, PEG-4 Olivate, Isopropyl Isostearate, Glyceryl Stearate, PEG-100 Stearate, Silica, Tapioca Starch, Chondrus Crispus Powder, Sodium Citrate, Xanthan Gum, Cetyl Lactate, Simmondsia Chinensis (Jojoba) Seed Oil, Sodium PCA, Phenoxyethanol, Benzyl Alcohol, 1,2-Hexanediol, Caprylyl Glycol, Citrus Aurantium Dulcis (Orange) Peel Cera/Wax, Ascorbyl Palmitate, Vitis Vinifera (Grape) Seed Extract, Citric Acid, Tetrasodium EDTA, PEG-4 Dilaurate, PEG-4 Laurate, Centella Asiatica Extract, Citrus Limon (Lemon) Fruit Extract, Iodopropynyl Butylcarbamate, Citrus Aurantium Dulcis (Orange) Fruit Extract, PEG-4, Equisetum Hiemale Extract, Sodium Hyaluronate, Caramel
Specialty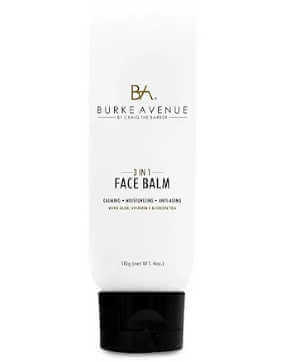 Burke Avenue 3-In-1 Face Balm. Produced by "Craig The Barber" Whitely (who wrote an article for Sharpologist about his experiences developing the brand), Burke Avenue 3-in-1 Face Balm is absolutely amazing for dry skin or for those in dry climates!
Ingredients (partial): Aloe Vera & Peppermint Oil, Avocado Oil, Carrageenan Extract & Squalene, CoQ10, Vitamin E, Sodium Hyaluronate & Green Tea Leaf Extract, Lemon Peel Oil & Geranium Oil.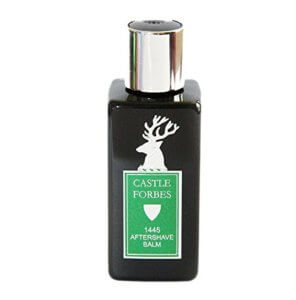 Castle Forbes Aftershave Balm. Available in Lavender, Lime, Cedarwood/Sandalwood, and 1445 scents, Castle Forbes' balms strike an almost perfect balance for me and others between scent, skin feel (not "sticky" at all!), and performance. If you normally don't use a "regular" fragrance (cologne or EdT) I think these balms (particularly 1445) can provide a somewhat persistent but subtle background scent for you.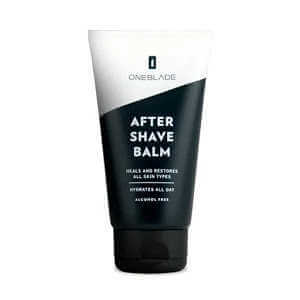 OneBlade "Black Tie" Aftershave.  Part of OneBlade's excellent "Black Tie" line, their aftershave is essentially unscented.  An excellent performer, this aftershave both moisturizes the skin and calms irritation quite well.
Ingredients: Water, Carthamus Tincorius (Safflower) Seed Oil, Glycerin, Hamamelis Virginiana (Witch Hazel) Water, Polyacrylate-13, Methyl Methacrylate Crosspolymer, Kaolin, Aloe Barbadensis (Aloe Vera) Leaf Juice, SyriCalm CLR (Phragmites Communis Extract, Poria Cocos Extract), Ubiquinone (CoEnzyme Q10) Extract, Lavandula Angustifolia (Lavender Oil), Aspalathius Linearis (Red Tea) Extract, Persea Gratissima (Avocado) Oil, Chondrus Crispus (Seaweed) Extract, Polyisobutenes, Polysorbate 20, Penoxyethanol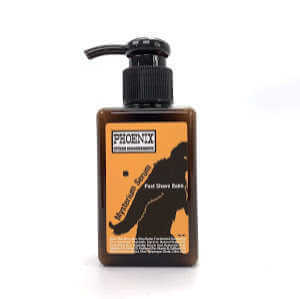 Phoenix Artisan Accoutrements (PAA) "Mysterium Serum." PAA offers a seven day money-back guarantee if you are not satisfied with it.
Ingredients: Water, Aloe Vera Juice, Shea Butter, Fractionated Coconut Oil, Olive Squalane, Vegetable Glycerin, Natural Vegetable Emulsifying Wax, Vegetable Stearic Acid, Hyaluronic Acid, Allatoin, Pea Extract, DL Panthenol (Pro-Vitamin B), Safflower Oil, MSM, Green Tea Extract, Silver Dihydrogen Citrate, Citiric Acid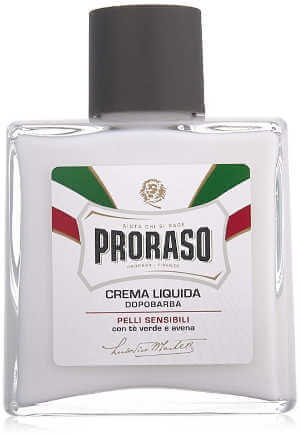 Proraso Aftershave Balm for Sensitive Skin. Not to be confused with their Aftershave Lotion (which is actually more like a splash). Proraso's sensitive skin balm has a bit of an odd ingredient mix but is surprisingly good and comparatively inexpensive.
Ingredients: Aqua (Water/Eau), Eythylhexyl Palmitate, Octyldodecanol, Glycerin, Aluminum Starch Octenylsuccinate, Sodium Lauroyl Glutamate, Aloe Barbadensis Leaf Juice, Prunus Amygdalus Dulcis (Sweet Almond) Oil, Tochopheryl Acetate, Glycyrrhiza Glabra (Licorice) Root Extract, Menthyl Lactate, Parfum (Fragrance), Sodium Benzoate, Phenoxyethanol, Sodium Hydroxide, Disodium EDTA, Carbomer, BHT, Hexyl Cinnamal, Butylpenyl Methylpropional, Linalool, Coumarin, Isoeugenol.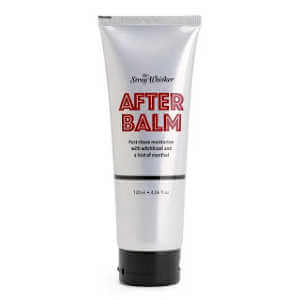 The Stray Whisker "After Balm And Post Shave Moisturizer" created quite a stir in the niche' wet shaving community when it debuted in 2016. Though other excellent competing products have appeared since, and some have an issue with the amount of alcohol in the mix, it continues to maintain an excellent reputation with a devoted fan base. Very mildly cooling with just a bit of Menthol.
Ingredients: Purified Water, Alcohol, Almond Sweet Oil, Cetearyl Alcohol, Vegetable Glycerine, Caprylic Triglyceride, Shea Butter, Macadamia Oil, Jojoba Oil, Phenoxyethanol, Stearic Acid, Aloe Vera Juice, Caprylyl Glycol, Witch Hazel Extract, Carbomer, Ceteareth 20, Fragrance, Mono-Diglyceride, Dimethicone, Butylene Glycol, Vitamin B5, Vitamin E Acetate, Sodium Hydroxide, Hydrolysed Marine Collagen, Menthol

Village Barber Aftershave Balm. (If you're outside of the US click/tap this link). Another long-established, excellent artisan product. I first tried it when it debuted in 2012 and it still has a place in my shave den.
Ingredients: Purified Water, Sunflower, Vegetable, Oil, Vegetable, Glycerin, Cetearyl, Alcohol, Caprylic/Capric, Triglyceride, Almond, Sweet, Vegetable, Oil, Shea, Vegetable, Butter, Natural, Vitamin, E, Macadamia, Vegetable, Oil, Phenoxyethanol, Stearic, Acid, Caprylyl, Glycol, Carbomer, Ceteareth-20, Dimethicone, Sodium, Hydroxide, Lavender, Lavandula, angustifolia, Juniper, Juniperus, communis, Patchouli, Pogostemon, cablin, Geranium, Pelargonium, graveolens, Chamomile, Anthemis, nobilis, Benzoin, Styrax, benzoin, Sandalwood, Santalum, album, Myrrh, Commiphora, myrrha, Eucalyptus, Eucalyptus, globulus, Frankincense, Boswellia, carterii, Clove, Eugenia, caryophyllus, Cypress, Cupressus, sempervirens, Peppermint, Mentha, piperita, Thyme, Thymus, serpillum.
Best Splashes
Splashes may have a "runnier" consistency compared to balms, and many have levels of alcohol that may be considered too high for good skin health. However there are some excellent low/no alcohol splashes: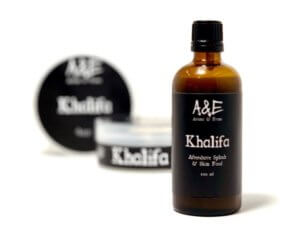 Ariana & Evans (A&E) Aftershave Splash & Skin Food.  A&E continues their shaving line that is notable for their scents into their aftershave line as well. They're choc-full of skin-friendly elements.
Ingredients: Aloe, Glycerin, Rose water, Emulsifying Wax, Rosehip Seed Oil, DMAE, MSM, Vitamin E, Sunflower Seed Oil, Phenoxyethanol, Hibiscus Sabdariffa, Organic White Willow Bark Extract (Salix Alba), Tea Tree Leaf Oil (Melaleuca Alternifolia), Provitamin A, Vitamin B3, Vitamin C Ester, Provitamin B5, Organic Neem Seed Oil, Organic Rosemary Leaf Extract, Helianthus Annuus, Lecithin, Organic Alcohol, Propylene Glycol, Xanthan Gum, Tetrasodium Glutamate Diacetate
Lucky Tiger Aftershave And Face Tonic.  Sharpologist has discussed Lucky Tiger before, and this splash works very well as both a cleanser to pick up any lather residue after the shave and as a moisturizer.  Not as widely available as it used to be.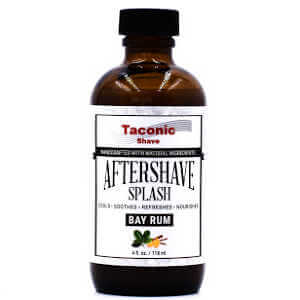 Taconic. Taconic's line of aftershave splashes are comparatively mild but still quite pleasant and effective. I particularly enjoy them in the Summer months when I'm looking for something "lighter" to start the day with.  It's available in several scents including Lavender Lime, Urban Woods, Excalibur, Bay Rum and Eucalyptus Mint.
Ingredients: Organic Herbal Extract (Aloe Vera infused with Witch Hazel, Japanese Honeysuckle, Chamomile Flower, Willow Bark, Calendula Flowers, Goldenseal, and Lavender Buds), Glycerin, Citric Acid, Polysorbate 20, Allantoin, Proprietary Fragrance/Essential Oil Blend, Phenoxyethanol, Caprylyl Glycol and Menthol.
Best Of The Rest
Some aftershave products resist "pigeonholing."
DR Harris Aftershave Milk. Generally "below the radar" and perhaps not quite as good as it was before a reformulation a few years ago, DR Harris' Aftershave Milk still has a devoted following.
PAA Star Jelly. Available in a number of PAA's long list of scents, Star Jelly feels like a balm going on but then dries on the skin like a splash.
St. James Of London Aftershave Gel. Available in Black Pepper & Lime, Lavender & Geranium, Cedarwood & Clarysage, Mandarin & Patchouli, Tonka & Tobacco Flower, and Sandalwood & Bergamont scents. I often take a small bottle of St. James Of London aftershave gel when I travel: it seems to be the most "tolerant" of a wide variety of environmental conditions and situations. A completely unique skin-feel for me.
Conclusion
Proper aftershave selection and care is part of an essential shaving routine. Don't just grab for the cheapest "faceburner" in the grocery store; consider your skin type and environmental conditions, then select the best aftershave that will work with you and for you. The products on this list will give you great results.