Level 4 autonomous buses will begin operation in Scotland next month – the first service of its kind in the world.
This article was originally published by FutureTimeline.Net.
Alexander Dennis Limited, a subsidiary of global bus manufacturer NFI Group, has today announced that a new autonomous bus service in East Scotland will commence on 15th May 2023. This follows the successful completion of an extensive testing program and registration by Stagecoach, the UK's largest bus and coach operator.
CAVForth (Connected Autonomous Vehicles) is a joint project of several companies and institutions, part-funded by the UK Government's Centre for Connected and Autonomous Vehicles. In addition to Alexander Dennis Limited and Stagecoach, the collaboration includes Bristol Robotics Lab, Edinburgh Napier University, Fusion Processing Ltd, and Transport Scotland.
One of the most complex projects of its kind worldwide, CAVForth will be the first registered service to operate full-sized, self-driving buses. A fleet of five Enviro200AV vehicles will cover a 23 km (14 mi) route, in mixed traffic, at up to 50 mph across the iconic Forth Road Bridge to the northwest of Edinburgh. Stagecoach will run a frequent timetable with capacity for around 10,000 journeys per week. To assuage public safety concerns, each bus will have two members of staff on board to monitor the technology and answer customer questions.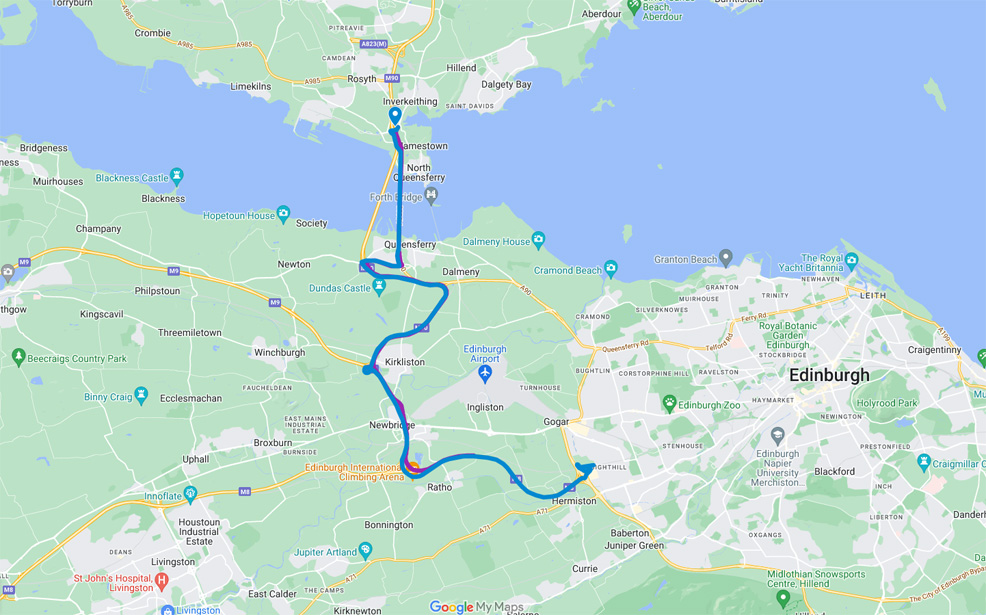 The Society of Automotive Engineers, an international organization of vehicle experts, has established a set of criteria for defining the different levels of autonomy in cars, trucks, buses and other modes of transport. These range from Level 0 (no automation, a driver being fully in control at all times) up to Level 5 (a vehicle is fully autonomous in every situation, without the need for a driver or any human intervention).
The Enviro200AV buses entering service in Scotland next month will be Level 4. This means the vehicle can take full control of all driving tasks and does not require a driver to be present at all times, but may still have some limitations, such as being limited to certain geographic areas or weather conditions.
Fusion Processing has built redundancy into every safety-critical system – so there are two mechanisms for the onboard computers to control the steering, brakes, and throttle. The buses also retain the regular driver controls so they can be operated in both manual or autonomous modes.
Scotland's Minister for Transport, Kevin Stewart, said: "This is an exciting milestone for this innovative and ambitious project, and I very much look forward to seeing Project CAVForth take to the roads next month. Our trunk road network can provide a wide range of environments as a diverse testing ground, and the ground-breaking and globally significant Project CAVForth will really help Scotland establish its credentials on the world stage."
"This is a thrilling milestone for this ambitious project which we are delighted to be delivering with our partners," said Jamie Wilson, Head of Concepts and Advanced Engineering for Alexander Dennis. "Our Enviro200AV autonomous buses will demonstrate latest innovation in vehicle technology and we are delighted that passengers travelling between Fife and Edinburgh will be able to experience this for themselves when the service launches next month."
The CAVForth Project has been in development since 2018, with extensive public consultation alongside testing. Following this initial rollout, a second stage is planned that could expand the service, going beyond Ferry Toll at the northern side of the Forth Bridge and into more urban environments.
As the technology matures and becomes more widely available, self-driving buses could bring a number of potential benefits – opportunities for improved safety by removing the element of human error, and also environmental benefits by promoting public transport and operating with greater fuel efficiency.